We are bang in the middle of July aren't we? Yesterday I was working in the garden and my feet were so cold I put an extra pair of thick woolly socks on.
There is Hardly a Ladybird in sight, the Blackfly are rife, I cleared the last of a couple of rows of Broad beans yesterday they have cropped really well but if the Ladybirds had been about to eat the Blackfly they would have been better. I have no idea why they are scarce, I haven't even seen one of the Harlequin intruder species.
Still we keep smiling there are lots of Peas to pick still too, plus Gooseberries, Red and Black Currants, the last of the Raspberries and the Black berries have just started to ripen.
The main cause of woe the contaminated Compost has now been eliminated except for one 7cm pot with one seedling. A pathetic slow little chap it is not big enough to show Hormone damage.
So let us have another smile, I want to see the comparison of the test sowing through to the end. Hence Tom Hato and his girlfriend Sally Ardstuff have got their Passports ready, they are going on holiday.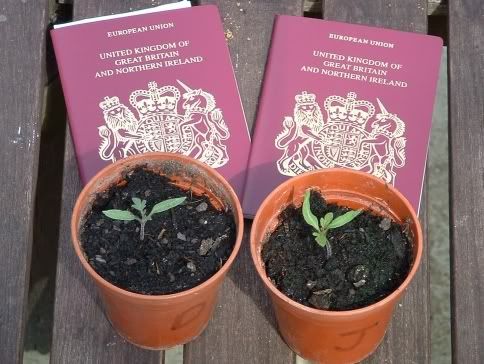 For his girlfriend I have chosen a bit of a runt, the smallest seedling that grew in the J A Bowers Compost, got to be fair, there is not much competition Toxic v the Runt. Stand by for reports on their progress from exotic parts.
The Leaf Cutter bees have been busy today as the sun is out, it is difficult to get a picture of a Bee with some leaf they arrive and slip into the hole so quickly. I was pleased therefore that this this one must have brought back a huge leaf section then gone off for a tea break.